Hand Hygiene: 1st line of defence against the spread of Coronavirus
Handwashing is very important to limit the risk of contamination transmitted by hands. In a food environment, employees who handle food, appliances or instruments that come into contact with food must be very vigilant and follow the handwashing instructions to avoid food contamination and disease transmission.
Your hands are essential to your work.  Hand hygiene is essential to prevent contamination and disease.
Handwashing isn't a trivial matter. It's important to know how to do it properly. In this video, we want to show you an adequate and optimum handwashing procedure.
A high cleaning frequency is key to the safety of surfaces WITH CONTINUAL human skin contacts.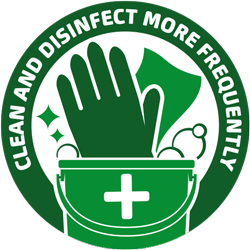 First of all, here are A FEW BASIC RECOMMENDATIONS
Liquid hand soap from a soap dispenser must be used. The soap dispenser can be a source of contamination. It's important to clean it regularly, check the soap and change it as needed.
Using bar soap is forbidden to avoid any risk of contamination that could come from the hand soap.
For non-automatic paper towel dispensers, we recommend providing for the necessary paper before starting to wash your hands. This is to avoid touching the paper towel dispenser with clean hands. It may have been contaminated previously.
YOU MUST WASH YOUR HANDS :
when returning to a room related to the area of activity;

before starting work;

after handling raw food;

whenever there is a risk of cross-contamination;

after smoking;

after sneezing or wiping your nose;

after going to the toilet.
Here are the STEPS FOR WASHING YOUR HANDS
| | | |
| --- | --- | --- |
| Remove any jewellery. Wet your arms and forearms thoroughly with hot water. | Apply a dollop of soap to your wet hands. | Soap your hands and lather up. |
| Cover the entire surface of hands, fingers and forearms. | Rub your knuckles, the back of your hands and your fingers, and then your forearms. | Clean the space between the thumb and index finger. |
| Work the fingertips into the palms to clean under the nails. | Rinse and wipe your hands and forearms. | *A disposable paper towel must be used for wiping. Close the faucets with the disposable paper towel and throw it in the garbage. |
*Never wipe your hands on your apron or with a rag to avoid any risk of contamination.
IN CASE OF INJURIES
Any cuts or other injuries must be covered for everyone's protection. The bandage must be replaced whenever you wash your hands.
WASHING YOUR HANDS ALLOWS YOU TO PROTECT YOURSELF, PROTECT OTHERS AND PROTECT THE REPUTATION OF YOUR BUSINESS.
Hand Hygiene Resources
Download