Biotechnology, optimum hygiene solutions for specific problems
BIOTECH SOLUTIONS contributes, in particular, to reduce the use of strong chemical compounds, reducing the environmental footprint and obtaining superior performance in certain areas of application, such as biofilms, odour control, biodegradation of oils and greases, and wastewater treatment.
Technical explanation
Photo 1:  In a few minutes, the enzymes (scissors) fragment the grease dirt (yellow layer) into small particles and make it soluble in water.
Photo 2:  After rinsing, a residual enzyme film (dark green layer) remains on the surface. Between cleanings, the residual enzyme film starts to act immediately on the accumulated dirt (yellow layer).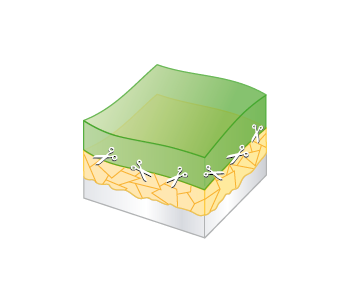 Enzyme action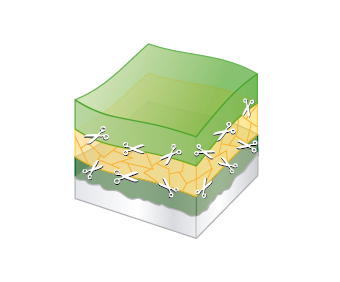 After rinsing